Our sweet daughter finally learned how to ride a bike without training wheels this weekend!
I've come to the realization that learning to ride a bike is a lot like learning to use the potty. We have tried for the last 2 summers without training wheels and she simply was not having any part of it. But once her mind was on that task she wanted to keep doing it and doing it until she got it. It was very similar to our youngest using the potty when he turned three. Up until then he showed no interest and we were not going to push him (we pushed the older two and it got no where). Again once he started using it he wanted to keep using it. It took him a day! Yes, they have accidents and they will fall. But it's all part of their learning experience. They need to go through all of that before they master the task.
In the mist of all the excitement I finally finished my spring tree!
I had branches there before that I painted white and sand papered some of it off - to look more like an aspen branch. Next, I cut several circles of my goodwill women's shirt and ribbon leaves like I did with my front door wreath found
here
.
The flowers I just folded the circle and then rolled it up and put a dab of hot glue. Then I put a leaf with it and hot glued it on to the branch. Nothing special! I'm so pleased to how it turned out!
The glittered eggs are nothing but plastic colored eggs glittered in Martha Stewart's glitter (I absolutely love her glitter - it cover so well and you don't even need to paint underneath). We have bags and bags full of plastic eggs! We seem to get dozens each year! I don't know why we can't reuse them...this year we will start!
The eggs had a horrible visible seam line that I hide with ric-rac ribbon. No more seam!
My speckled eggs are plastic eggs as well. These I spend a little more time on. I hot glued them closed like I did with the glittered eggs but then I painted them with gesso. You could also prime them but I didn't know how that would work with spraying them. I then sanded them for a smooth finish and painted them a light brown color. Next, I dipped my bigger paint brush into brown paint and flicked it on. A tooth brush would also work. Again these eggs had that visible horrible seam. I wrapped twine around them several times and tired it off. Oh yeah I also thinned brown paint after I speckled them and brushed it on. I then wiped the majority of it off. It gave the eggs a variation in color and made the speckles not so prominent.
I plan to be back on Thursday with a tutorial on how to make my paper flower balls. I just love them...they are all around my house.
Thanks for stopping by!
Linking to these parties: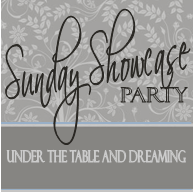 I